Using these affiliate links helps
with the upkeep and ability to produce
regular content, blogs and
videos on this site.
CLICK on Company Banner to
be directed to the website
Please see my affiliated companies,
with comments below each.
Analogy: Not everyone likes i phone!
People do actually use Android!
In my opinion, Bet Angel are the leading brand for Betfair Sports Trading.
I have used Bet Angel intermittently for many years. Their vast array of functions within the software is almost never-ending
functions within the software make it a great place to learn, explore and hopeful produce profit!
This coupled with their huge forum, where you can speak to like-minded individuals who have plenty of experience.
I prefer PROFIT SQUAD as my main Casino Service.
I have tried others. Profit Maximiser comes in a close second.
In my opinion, the calculator found on the Profit squad website is supreme.
Standard Matched betting sites do offer casino guides,
but if you really want to get serious about your Casino profits
and/or jump-into Hi Risk Casino – then take a look at either of these two services.
This company needs no introduction! I am at the stage in my Matched Betting where I have no need at all for any services.
I have been Matched Betting for over 20years, so have got used to not using services.
However, I DO NOT  like paying commissions!
Profit Accumulator currently have a special deal [check if still valid] with SMARKETS and MATCHBOOK
If you're as PA member then you can enjoy 0% commissions with both these exchanges!
Click the image above to be directed to their site
WannaBe a Full time Trader?
We all want the above, right? No gubbings – no sneaking around, no need to have huge bankrolls!
This would be the ideal logical answer!
The mistake most people make – is that they wait until they have no betting accounts left, then try and trade!
No!! Be smart and try learn before this happens, click above and check out Caan's Ace Lessons.
Casino Madness!
VIDEO SLOTS is one of my favourite Casino offers I enjoy
One of the easiest offers + huge choice of games
There is a quality feel to the website & a vast selection of cool games – there's no lack of choice there!
In my experience with VIDEO SLOTS – Withdrawals are also processed quickly, which helps.
MATCHED Bets Special PROMO CODE
Use code = "ARBER" upon checkout
I was delighted when Matched Bets gave me an exclusive promo code for my followers to enjoy.
This promo code "ARBER" Can be used, upon checkout, to gain 30 days of Premium service, for just £5!!
I particularly recommend this to Newbies – as having 30 days allows enough time to complete most of the sign ups
After completion – you will then know whether Matched Betting is 'for you' and for a fiver it's
worth the risk!

Rebel betting are one of the longest-standing Arb products around. They were first to bring out the Dutching tool over ten years ago
This was a big thing back then – RB have remained a premium Arb Finder, if that is your thing!
Rebel Betting can be use to alert you of Arbs and Dutching. There alerts are very efficient and vocal. You can custom your notifications to suit your needs. Beware of using this software with accounts you cherish. Only consider with rubbish Eurozone based companies that you deem not of use *Please note* If Rebel Betting recommend backing "£23.38" it may be wise to use a method called 'rounding' and stake £24 or £25 and adjust accordingly. Rounding can be found on my video Guides.

BETDAQ The purple machine – have niche markets that SMARKETS and MATCHBOOK do not,
Those markets include
greyhound markets, similar to Betfair. Check out their nice looking interface and also offers from time-to-time.
CHECK OUT the latest Matchbook offerHERE
Matchbook also have niche markets. NFL, some football Acca markets can also been found on MATCHBOOK that do not appear on SMARKETS.
As mentioned in my website article – it's always worth having a "back-up" 0% commission exchange, like MATCHBOOK, or vice-versa, SMARKETS.
Because one thing is for sure = ONE day you will need it and it might be a matter of urgency come the day! See my content "Exchanges" on main home page.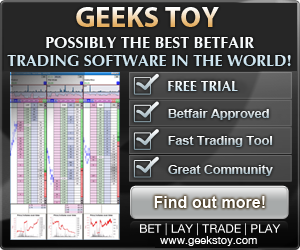 As mentioned in my BETFAIR TRADING articles within this website; GEEKS TOY is my second preference of Trading software.
Many people actually prefer this to BET ANGEL – it's just a preference thing!
My suggestion would be to take out a free trial of both, then decide!
betconnect is a next generation betting exchange where Pro gamblers post their bets for Punters to take up and follow or take on and lay.
At time of posting, was £50 in Free Bets!
Trading 212 currently have an offer where you can receive a free £10 share
& also the chance to enjoy a referral link for you and a friend to enjoy a free £10 each 
upon them joining too! Check if still valid